Without a doubt, swimming is a refreshing way for you and your family to get through a hot day. You must maintain your pool properly and always keep it clean to continue enjoying it.
Sadly, when this cleaning is done manually, it'll not only tire you but also you might not get rid of all the dirt. You're better off going for an automatic pool cleaner for easier removal of dirt, debris, insects, and bacteria and a consistent quality of maintenance. 
Read on to find out more about automatic pool cleaners, their types, and how they work.
Suction-Side Pool Cleaners
Pressure Side Pool Cleaners
Robotic Pool Cleaners
Let's see how each type works: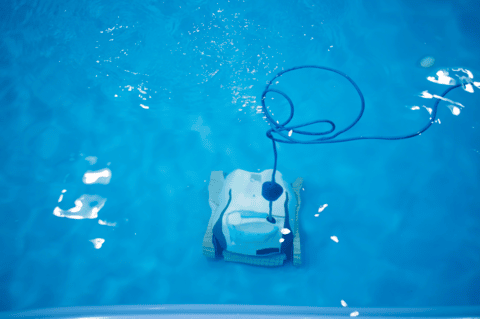 Suction-Side Automatic Pool Cleaners
This is widely used for above-ground pools. While cleaning the pool, attach it to the wall skimmer and it cleans your pool. This cleaner works while your pool pump is running.
Pressure-Side System
This has a host that is attached to the pool. The force of the water that comes from the return line enables the cleaner to move around your pool's surface. As it moves through the surface, it can create a vacuum to suck dirt and debris from your pool and deposit them into a bag dedicated to dirt and debris.
Robotic Automatic Pool Cleaning System
This has its filtration system that is usually a secondary filter.  You don't need to attach it to an external filter system while using a cleaner with its filtration system. This type of pool cleaning system can automatically clean your pool's debris and dirt.
Wondering why you should switch to automatic pool cleaners?
Here are 6 reasons why you should do so as a pool owner.
1. It saves time
Time is precious to all of us. An automatic cleaning system provides the opportunity to save the time otherwise dedicated to cleaning the swimming pool.
2. It's easy to install
Automatic cleaning system pool cleaners are also easy to install because the pressure and suction models get attached to the pool's pump system, through a hose connection. There is no need to haul the unit out every time the pool needs cleaning.
3. It's cost-effective
Automatic cleaning systems are often energy-efficient, thus, they can save you money on your electricity bill.
4. Maintenance is easy
The pool cleaner robot is easy to operate and easy to maintain.
5. There's improved chemical balance
Some robotic cleaners are created to move the water around as they clean. The water circulation helps to improve the chemical balance of your pool.
6. Significantly reduces the need for labor
With an automatic pool cleaner, you don't have to work as hard at keeping your pool clean. Just go ahead and enjoy a fresh pool.
Having a robotic pool cleaner that does everything for you faster and more efficiently is very convenient. However, you still need to schedule professional pool maintenance services for thorough inspection and repair to keep your pool fully functional. At Sunrise Pool Services, we offer a wide range of pool services. To get started or learn more, get in touch with us.