Transforming Your Backyard with Trustworthy Swimming Pool Services
Keeping Georgia's Pools Clean & Sparkling Since 1981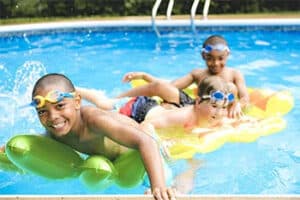 From Trusted Pool Maintenance Professionals
Owning a swimming pool is the culmination of years of hard work. You want to be able to relax and enjoy your pool, entertain your friends and family, and not have to worry about defects on the surface, tile or problems with the water's chemical composition. To really enjoy your pool in peace, you'll need home pool maintenance service in Buford, GA. Rely on the pool maintenance professionals at Sunrise Pool Services. Schedule an appointment today and let us take care of your pool.

Full-Service Pool Specialists
Sunrise Pool Services can handle pool cleaning, pool repair, winterization, de-winterization, and all the pool inspection service you expect to keep your pool healthy and ready for entertaining, swimming, and drifting in a little rubber raft. We've been providing premier pool cleaning and pool maintenance service since 1981. As a pool service company, we understand what it takes to make sure your pool is working properly and is a safe place for swimming. Contact us today to learn how we can help you get more out of your pool.

Family-Owned Swimming Pool Company
Sunrise Pool Services started in 1981 with one employee holding onto a skimmer and a dream. We have provided years of dependable service to grow to where we are today: Georgia's number one home pool maintenance services provider. We take pride in our work and knowledge of swimming pools, which covers everything that's required to keep your pool clean and working the way it should. Our swimming pool maintenance service technicians treat your pool like it's their own. We may be the best pool service in Georgia, but we're still committed to our standards of providing excellent customer service, knowledge, and dedication. Let us put our services to work for you. Call us today.

Cleaning and Maintenance
The most immediate need of any pool owner is to keep their pool running on the hottest days of the year. As the premier pool maintenance professionals in Buford, GA, we provide a range of services that include pool cleaning, water treatment, winterization, and de-winterization. You can rely on our trained experts to provide the outstanding swimming pool care you need. We strive to be the best pool cleaners in town. You can rest assured that, when you hire our team for swimming pool cleaning, your pool will be ready when you want to relax, exercise, cool off, or have friends over for a pool party.

Renovation and Repairs
Pools can continue to operate for quite some time with what may seem to be a minor problem, but don't be fooled. A small crack or a mishap in the pump can have lasting effects and should be dealt with as quickly as possible. As an expert pool maintenance company, we offer the finest pool repair and renovation services you'll find in the area. Our technicians are skilled in fixing leaks, heaters, pumps, motors, and filters. We can also renovate your pool and reconfigure the design to bring your perfect pool vision to life.

Inspections
If you're purchasing or are planning to purchase a home with a pool, then you want to know the condition of that pool. Let us help you. We can let you know if there are any cracks you should be aware of, if the mechanical equipment is working as well as it should, and if there are any foundational issues that could result in significant expenses down the road. Since we provide swimming pool maintenance service, we're familiar with all the ins and outs of home swimming pools.
Learn More About Our Pool Services
Sunrise Pool Services offers a wide range of pool services. Our expert staff of pool professionals can do it all, including pool cleaning and renovation. We provide services to the following areas in Georgia: Alpharetta, Atlanta, Cumming, Duluth, Johns Creek, and Buford. Our friendly and knowledgeable pool maintenance team is ready to help you enjoy your pool even more by taking the worry out of pool ownership. To get started or to learn more, get in touch with us today.
What People Are Saying About Sunrise Pool Services

"These guys have been servicing my pool for years. I am extremely happy with the service they provide and with the professionalism the technicians demonstrate. The office staff is great too. I definitely recommend these guys."