Keeping Georgia's Pools Clean & Sparkling Since 1981
Trusted Pool Professionals
Meet Our Pool Technicians Today
Sunrise Pool Services in Buford, GA, is a family-owned company established in 1981 with one truck and one employee. By delivering dependable and quality service, we have grown to become Georgia's premier pool service company. Customer satisfaction is our primary goal. We want you to be able to use your pool for exercise, relaxation, and entertaining when you need it. As trusted pool professionals and pool technicians, we take pride in our work and have stayed in business for more than 31 years by providing the highest level of customer satisfaction possible. Our commitment to our customers is to provide exceptional swimming pool service and repair. We serve the areas of Buford, Johns Creek, Duluth, Alpharetta, Atlanta, and Cumming, GA. Contact us today and get our hardworking team of professionals working together to make your pool cleaner and more beautiful.

Mike Allmond
Mike is the owner of Sunrise Pool Services. He is very passionate about his work and has a hand in everything within the company. Mike visits the majority of our new customers to provide bids and to get them signed up for their new service. He is normally out in the field, constantly meeting with customers and providing pricing for the work needed, equipment, or for the pool itself. In his free time, Mike enjoys spending time with his family, playing golf, and watching the Dawgs play.
Choose Sunrise for Your Pool Work Today
We are the swimming pool experts. Rely on our pool cleaning crew to provide quick service. We have a fleet of 21 service trucks and highly trained technicians. Our friendly staff offers courteous service to all of our customers.

Maureen Etheridge
metheridge@sunrisepool.com
Maureen joined Sunrise Pool Service in 2003. Maureen enjoys building relationships with our customers. Although the majority of her work is Human Resource related that never stops her from answering the phones and helping you in any way that she can. In her free time, she enjoys going to the pool and traveling with her closest friends.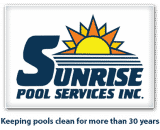 Michael Allmond
Michael worked for Sunrise Pool Services part-time throughout his school years and began working here as a full-time employee in 2016. Since then, he has become our head Service Manager. Michael enjoys communicating with our technicians and customers to ensure they are completely satisfied with our services. In his free time, Michael enjoys reading, watching the latest TV shows, playing the guitar, and occasionally writing.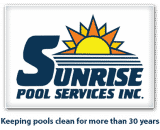 Tanya Seagraves
tseagraves@sunrisepool.com
Tanya joined Sunrise Pool Service in 2016. Tanya handles our service contracts and is in charge of any changes within the account and repair billing. She enjoys building relationships with customers and brightening their day. In her free time, Tanya enjoys spending time with her family, decorating cakes, and photography.
Read Our Pool Service FAQs
Part of our commitment here at Sunrise Pool Services is to provide excellent customer service. We accomplish this by giving our clients the information they need for their pool project. Check out our pool service FAQs to read useful information regarding pool cleaning, repair, or maintenance. Get in touch with our pool professionals today to get started with one of our service plans!
What People Are Saying About Sunrise Pool Services

"I have a PebbleTec Pool with Ultraviolet filtration system that requires very little chlorine. Sunrise maintains the pool chemistry very well. The service people are very pleasant to work with as are the back office folks. Their prices are reasonable and they are very flexible. I highly recommend them."