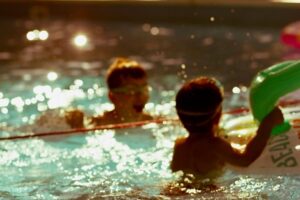 The springtime is the ideal time to work on your pool and get it ready for opening, especially in Suwanee, Georgia where the weather starts to warm up starting early spring. With summer just around the corner, getting all your preparations done early can ensure your pool is ready for swimming as soon as the temperature allows. There's a list of tasks that need to be done ahead of time, here's what we recommend:
Run Your Pool
If your pool has been idle for a while, one of the first things to do is run your pool pump and filter. You may find that your water has become cloudy or even green from algae buildup. To clear this up, your pool professional will leave the filter running continuously. Once the water is looking normal again, run the system about 10 to 12 hours a day to keep it looking that way.
Check Water Levels and Chemicals
There is a good chance your pool's water level has dipped since you closed it a couple months ago and that your chemicals are imbalanced due to changes in bacteria, algae, and the addition of debris. For low water levels, you can add more using a hose until it gets to the desired level.
When it comes to chemicals, Sunrise Pools will test the water first using a test kit and see what is needed from there. They'll be adjusting for pH, alkalinity, calcium hardness, and chlorine. You can buy the chemicals yourself or your pool professional will take care of it.
Inspect Your Pool Equipment
Take an afternoon to do a complete walk of your pool and its surroundings with a Sunrise Pool professional. You want to make sure everything is in tip top shape which means no crumbling steps, no cracks, no loose tile and all the equipment is working well. Also inspect all of the equipment. This is what keeps your pool in clean condition, so you'll want to handle any problems you catch early on. Look over your pool pumps, pool filter, and skimmer to double check there's no issues.
Clean Your Pool
Finally, and we can't emphasize this enough, schedule a thorough cleaning of your pool. Tackling this early will ensure that your pool is ready to go and that cleaning throughout the summer will be lighter. Sunrise will use skimming nets and a vacuum to get all of the debris out of the way and take the extra time to clean the area around the pool too. Trimming up bushes, sweeping away leaves on the deck, and pruning your tree branches will prevent more clutter from disrupting the space.
Get in Touch
We can help you make sure everything is ready for the summer.  Contact Sunrise Pool Services Inc. at our Buford, GA office at 678-804-0050 to schedule pool cleaning and see how we can help keep your pool safe and fun!