Thanksgiving.  A time of good food, good company, and pool winterization. Wait, what?
That's right, depending on your local climate by the time you sit down for turkey your pool should be prepared for winter.  Even Georgia can expect freezing temperatures in the winter months so pool winterization is essential.
Note* If you don't want to winterize your pool, make sure there is a freeze protector on the system. It will automatically turn the pool pump on itself when temperatures are below freezing so that it prevents any freeze damage.
Why you should do it
Pool winterization means protecting your pool from the harsh winter weather.  Not just from ice and snow but increasing rain and wind that love to join us for the winter months.
Closing your pool properly means you can pretty much jump right back in when the weather warms up.  Not doing proper pool maintenance as we head into winter risks expensive repairs due to freezing pipes, filters clogged with algae and even rips in vinyl liners—a nasty surprise that proper pool maintenance can prevent.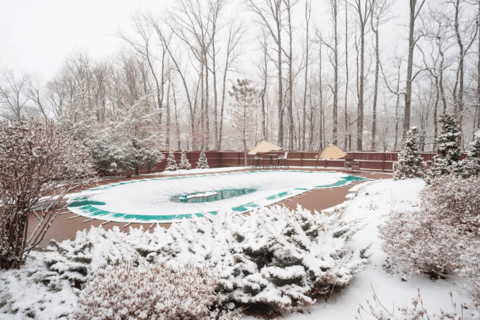 Checklist for pool winterization
Do a thorough cleaning of your pool. Brush, vacuum and remove all debris.  The water won't be filtered again until you open up so don't skip this.
Remove and store all skimmer baskets, ladders and wall fittings. Keeping them dry and out of the elements will keep them in good condition for when you need them again.
Drain all pumps, filters and equipment. Use compressed air or a wet-dry vacuum to clean and dry them out.
Dry out all lines and plug them. If you want, you can partially fill them with anti-freeze before plugging to keep water out.
Ensure the PH balance of the water is perfect. Then add a large dose of chlorine or non-chlorine stock to see it through the winter. If you aren't sure of the recommended ranges of PH, chlorine or alkalinity, just ask us.
Add winterizing algaecide. But only once the shock chlorine levels are normal.
Lower the water level 1 – 6 inches below the skimmer. Make sure the waterline is below the tiles as freezing water can crack the them.
Don't be tempted to drain the pool completely. Hydrostatic pressure from underground water can push up a pool in heavy rain and that will require major work to rectify!
Place a floating device in your pool before fitting a secure winter cover (animal and child safe). This keeps the cover off the water to stop ice expansion.  Use a leaf blower to clear the cover of leaves and keep the weight off during the winter months.
Check under the cover once a month. You'll be able spot anything that's wrong and fix it before it becomes a problem.  Add chlorine periodically to help prevent the growth of bacteria and algae.
That's our checklist for winter pool maintenance so your pool is ready to jump into come spring. We'd highly recommend opening your pool before temperatures reach 70 degrees because algae thrive at 70 degrees. You'd rather be having a pool party and not a pool clean up party, right?
If you'd rather be thinking of Thanksgiving turkey than pool winterization right now then why not ask us to take care of your pool winterization for you?  You'll be helping yourself to another slice of pumpkin pie knowing your pool is all taken care of.