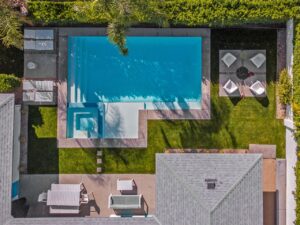 Most people don't realize just how many options there are for their backyard pool until they start getting into the details. If you're building a new pool, you've already decided on a design, materials, and overall aesthetic, but what about the water? Nowadays there are so many choices for your pool, and it usually comes down to personal preference and budget.
A salt water pool probably doesn't sound that appetizing if you're imagining what it was like to get a mouthful of water at your last beach trip–it's not exactly like having a piece of the ocean in the backyard. A salt water pool is much more temperate, enjoyable, and it doesn't taste like salt.
So, let's discuss one of the big debates: salt water vs chlorine. Do the benefits of a salt water pool really outweigh those of a chlorine pool?
What is a Salt Water Pool? 
A salt water pool is one that uses a chlorine generator, also called a salt chlorinator–we're not tricking you, it's still a salt water pool! Instead of manually adding chlorine to the water, this generator creates its own chlorine by using electrolysis to convert dissolved salt (sodium chloride) into chlorine. Your salt water pool contains ten times less salt than ocean water, so it isn't as overwhelming.
A chlorine pool is one that uses a chemical sanitizer, such as chlorine tablets, to clean and sanitize the water. It's a more traditional method for pool maintenance that many are familiar with.
The Benefits of Salt Water Pools
Less Harsh

: Salt water pools tend to be gentler on the skin and eyes, leading to fewer irritations and redness.

Less Maintenance

: Salt water pools require less maintenance as the chlorine generator takes care of most of the work for you, leading to a lower cost on chemicals and other pool upkeep. You'll just need to check the levels weekly and work with a

local pool cleaner

for optimal results.

No Chlorine Smell

: One of the biggest complaints about chlorine pools is the strong chemical smell it can have–with a salt water pool, this issue becomes a thing of the past.

Safer for People with Asthma

:  People with asthma or respiratory issues may find salt water pools to be a safer option as they don't release harsh chemicals into the air.

Safer for Children

: Children that swim in salt water pools rather than indoor chlorinated pools have

less risk for lung inflammation or asthma

, making it a safer alternative for kids who swim regularly.
Can You Turn a Chlorinated Pool into a Salt Water Pool?
Yes, you can convert your current chlorine pool into a salt water option by installing a chlorine generator. The conversion process and maintenance may vary depending on the type of pool you have, so be sure to consult with a professional before making any big changes.
Maintain Your Salt Water Pool with Sunrise Pool Services
Although a salt water pool is packed with benefits that will save you money in the long run, it still requires regular upkeep and cleaning. At Sunrise Pool Services, we offer comprehensive pool services to keep your salt water or chlorinated pool in tip-top shape all year round. Contact us today for more information!