There are millions of styles and trends for designing pools. Picking tiles that match the rest of the outdoor area can be a beautiful aesthetic addition to the space, plus lining pools with tiles provides a superior finish and a captivating look.
Decorative pool tiles with appealing designs can elevate any pool's style. The most important thing is the quality of material and the overall design of tiles. Appealing designs and durability of tiles make our pools attractive and long-lasting. 
Let's discuss different pool tile ideas to make our pools look great.
Pool Mosaic Art
A hand-crafted mosaic finish on the pool tiles increases the aesthetic value of swimming pools. Mosaic artwork never goes out of style. We can get mosaic art on tiles if we want wild or sea-life designs for our swimming areas. Porcelain and glass tiles are best suited for mosaic artwork. Another option is to have vivid patterns on the tiles.
Iridescent mosaic tiles give a classic look when the sunshine reflects beautifully off them. These are water-resistant and perfect for pool tiles. You can also get mosaic tiles in solid colors instead of complex artwork.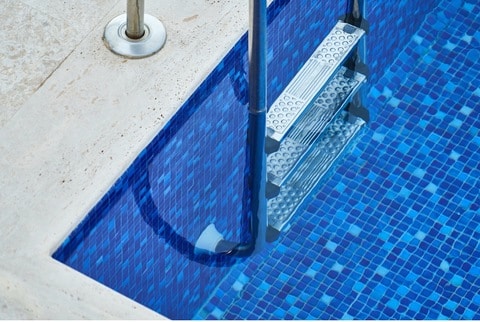 Mediterranean Styles
We can make our swimming area a Mediterranean paradise using porcelain and ceramic tiles. These come in vibrant colors, rustic wood designs, terra cotta accents, and infinity designs.
We can show off a Mediterranean look by adding infinity edges to fountains. Our pools can reflect a green oasis by using darker colors. Rich blue tones give a calming look. Try out colorful porcelain and ceramic tiles for a better Mediterranean look.
Stone Pool Tiles
Stone tiles give a natural look to our swimming area. These tiles absorb water, so use them on the pool deck instead of inside the pool. They provide an elegant look to pool decks, and their porous quality makes them slip resistant. Pool tiles made of granite and limestone are durable and ideal for designing the poolside.
Stone tiles are used on pool decks because of their water-resistant properties. They provide an elegant look with a natural shine. Install natural stones with an extra finish to give an aesthetic look to the poolside.
Simple Solids
For a minimalistic look, simple tiles can be installed in the pool. We can choose brick tiles for the simple and regal look for our poolside. Though these are not modern, they are durable and long-lasting. Brick tiles come in different solid colors, ranging from blue to navy blue and red. Blues are most commonly used for the poolside as they align with the water.
The reflection of blue helps us to understand the depth of water and texture. But the drawback of brick tiles is that they are highly porous. They need to be sealed to save the tiles from water damage.
Conclusion
When choosing the tiles for our pools we need to consider colors that will suit the surroundings. Ensure that everything blends with the surrounding for a better look. To get an attractive look for the poolside, match the tiles with the outdoor area. Hopefully these pool tile ideas will help you design a striking poolside.
Looking for pool services, advice, or cleaning near you? Check out your local friends at Sunrise Pool Services by calling 678-804-0050.