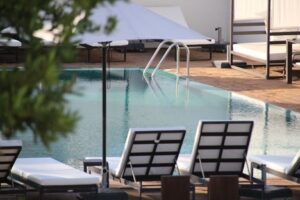 We all get excited when we know that pool season is only a few months away. While it doesn't get too cold in Buford, Georgia, it's still easy to miss those hotter summer days where you can lounge by the pool and go for a dip. Although your pool has been unused throughout the winter, you should've been performing some basic checks and cleans to make sure everything still looks good. If you've noticed anything that is out of balance, this is the perfect time to start addressing them and looking into fixes so that your pool season will kick off without any delays!
Filters
Filters will need different approaches depending on how you closed the pool last season. If you kept them running, chlorinated, and maintained you should have a quick and easy opening. At this point just check your pumps to make sure they're still running just as well as they have been each day.
If you're someone that flipped the off switch on your filter, then Sunrise Pool will go through extra steps to make sure they still work properly. It will be necessary to clean biofilm off the filter and backwashing before you can run your filter and reopen.
Pool Covers
Pool covers help us in major ways by keeping a lot of leaves and other debris from falling into our pool. Debris should be regularly cleaned off from the cover throughout the winter. It is important to keep an eye out for any rips or tears in the pool cover. If there are, you'll want to make plans to either patch them up if possible or replace it with a new one.
Pumps
Pumps help circulate water through the filtering system and sanitize it so that it is safe for use. Since the pumps don't run during the winter, it is important to have them examined by your professional pool company before reopening your pool.
Decks
If there are parts of your deck that are chipped or splintered, those will need to be fixed before pool season starts. Broken decks can be dangerous if you have lots of people around the pool area in the summers. It is not ideal to have to close the pool or worry about sectioning off areas for repair during pool season.
Get in Touch
We can help you make sure your pool is ready for the summer.  Contact Sunrise Pool Services Inc. at our Buford, GA office at 678-804-0050 to schedule your pool opening, or a pool inspection, and see how we can help keep your pool safe and fun!