Pool inspection is just as important as a home inspection. It is better to identify issues at the start and have them resolved at low cost rather than have it get worse and cost more to repair. It becomes difficult to deal with them when not treated on time. A professional pool inspector can identify issues in the pool that might go unnoticed by the ordinary eye.
Every year, swimming pools need to be inspected before the summer season begins. It is necessary to have a pool inspection to protect it from potential risks. Ensure that the pool area is well maintained because it can create a host of issues that can become difficult to resolve over time if left to fester.
Algae Growth
If you are someone who has a swimming pool, there's probably been a day where you realized that the water might be greener than usual. Algae is one of the most common pool problems, and this issue can be resolved quickly and efficiently. Algae tend to grow better in pools that have low chlorine levels.
If you want to take algae seriously, all you have to do is test your pool. This allows homeowners to confirm that they have algae swimming pool problems, and the pool will usually have to be "shocked." Once the algae are killed, you will also have to vacuum out the pool.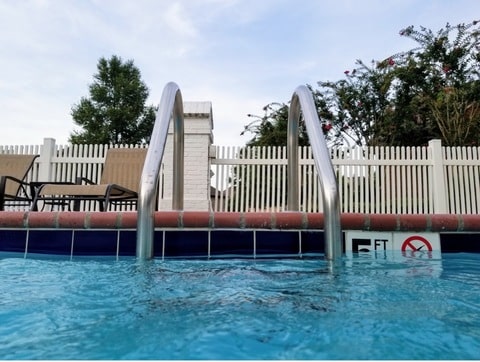 The Filter Gets Dirty
A filter is what keeps your pool clean, but what happens when you forget to keep checking the filter? You might find that the filter gets dirty to the point where it is no longer effective. This is one of those swimming pool problems that have to do with simply checking on your pool, and your filter can get dirty quickly if you use your pool often.
There are also other situations where you should check your filter more than usual – such as a season with heavy pollen, or a windy day that leads to a lot of leaves blowing into your pool. If you are concerned about pool problems like this, you also may want to purchase products to "degrease" your filter.
Not Checking The pH Level
You might love swimming on a weekly or daily basis, but what happens if you notice that you get irritated every time that you swim? Some pool owners might feel like their eyes are stinging more than usual, or that their throat is irritated as soon as they finish a couple of laps.
A pH imbalance is most likely one of the pool problems that are happening here. You should immediately test your pool and ensure that it has a healthy pH level in this situation. For those who are unsure about what it should be, the pool's pH level should be about 7.2 to 7.6.
Some products can quickly solve swimming pool problems like this, but pool owners should make it a point to check pH levels routinely. The last thing that you want to do is to throw a pool party where all your guests end up getting skin or eye irritation issues.
Find yourself needing pool services? Reach out to Sunrise Pool Services at our website or by calling 678-804-0050!