Many homeowners love the fact that they have a pool, and some of them make sure that they maintain it as immaculately as possible. However, maintenance can get more challenging with time.
What happens when you've owned a pool for fifteen or twenty years and it's clear that there it requires repair? Who should you contact? What's the cost to replace pool tile? Here is some more information about how to replace pool tile and some helpful tips to help you get started.
First Steps
This will probably sound like common sense to most, but the first thing to do regarding how to replace pool tile is to drain your pool immediately. You may want to use a submersible pump to get this done and doing this in bright sunlight can help speed up the process.
Next, pool owners will need a grout saw to remove the grout from between the tiles. After this step, a hammer and chisel should be utilized for anyone who wants to understand how to replace pool tile. If your tiles are particularly small, pool owners may want to use a small flat headed screwdriver instead of a chisel.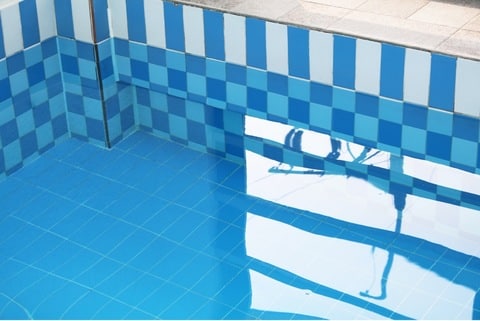 Replacing The Tiles
Before you understand how to replace tile, you should also inspect the beam behind the tile before figuring out replacement tiles. If the beam needs repairs, it will probably increase the cost to replace pool tile. If this is the case, you should probably consider contacting pool tile professionals as soon as possible to take a closer look.
If the old tiles come off intact – that's good news! You may be able to save some money and not even think about the cost to replace pool tile, since you can just re-attach the tile. You may also want to contact your original pool builder or just check online for similar tiles. Pool owners should also factor in the purchase of waterproof tile grout when considering the cost to replace pool tile.
If you can't find the exact tile to match your old tiles, you may want to settle for something with a similar color and size. It may not stand out as much as you think it will. If this isn't a possibility, then you can always get a custom builder to customize tiles, which is a more expensive way to figure out how to replace pool tile.
Final Steps
Once you have understood how to replace pool tile and replaced it – you should let the tiles dry for 1-2 days. You should also be using the right amount of thinset to apply to the back of the new tiles. Many experts believe the ideal amount is 1/8th of an inch. There are also special adhesives to attach pool tiles, as well.
Another important aspect when thinking about how to replace pool tile is understanding that cracked and damaged tiles can pose a safety hazard. If you notice that your pool tiles are damaged, you should act as soon as possible.
Find yourself needing pool services? Reach out to Sunrise Pool Services at our website or by calling 678-804-0050!