Is your pool liner getting dirty? Do you see weird stuff floating around in your pool water? If you answered yes to these questions, then your pool filter probably needs a bit of care and attention.
Cleaning a pool filter can be a difficult task, but with proper professional care and service, you can learn how to clean your pool filter and maintain it for years to come.
What does a pool filter do?
The essential function of a pool filter is to skim away the debris floating around in the pool, keeping the water clean and hygienic. The first step in pool maintenance is to periodically check your pool filter for dirt, grime, and foliage. This ensures that the pool filter works efficiently, keeping the water clean, and providing long term usage.
A typical backyard pool will come in one of the three types of pool filters: Sand filters, cartridge filters, and diatomaceous earth (DE) filter. These filters vary in their maintenance, cost, and longevity.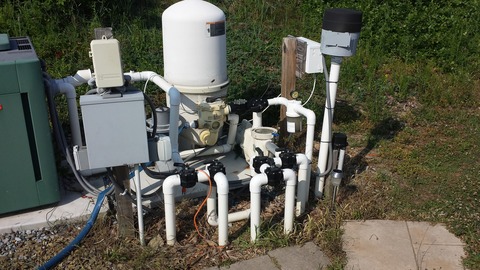 How to clean different pool filters
1. Sand filters
Sand filters are the most cost-effective option of the three. Sand filters work by filtering pool water through silica sand, which captures all unwanted debris. They are easy to keep and last a long time.
The only drawback is their ineffectiveness in capturing minute particles without a secondary filter meant for that purpose. Sand filters are generally cleaned by backwashing and rinsing the filter. This can be a time-consuming process that may still leave some fine debris behind.
2. Cartridge filters
These filters represent the mid-range of pool filters. The cartridge filter uses a fan-based polyester filter, which is fitted into the cartridge. Pool water flows through the filter, which traps all the particles.
Cartridge filters work well to catch the smaller particles floating in the pool. Cartridge filters are quite easy to clean and require less time and effort than sand filters, since they don't need backwashing treatments to remain operational.
3. Diatomaceous earth filters
They are the most expensive option of the three, but they provide a great return on investment. DE filters have a sophisticated mechanism that allows it to clear microscopic debris out of the pool.
It works similar to the sand filter, bypassing the pool water through a white powdery substance. Interestingly, this white powder is derived from the fossils of diatoms, an aquatic plant. DE filters are backwashed like sand filters.
How long should you wait between cleaning your pool filter?
It is recommended to clean your pool filter with a pool filter cleaner at least once a week. But you may not have the time to dedicate for such maintenance. In these situations, it is best to contact the pros to do the dirty work for you.
With Sunrise Pool Cleaning Services, you can delegate the job of cleaning your pool filter to trusted professionals. We have decades of experience in handling pool maintenance. As a family-run business, we understand the needs of each household and business.
Visit us today to get tailor-made packages for all of your pool service needs.