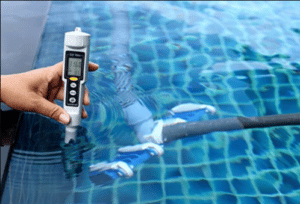 While chemicals are hardly noticeable in your pool water once you've gotten your pool up and going for the summer, they play a highly important role in keeping your water clean and safe for use. Pool season should always begin with a thorough cleaning and testing of your water. This will help you gauge the current state of your pool and let you know which chemicals you'll need to add to balance out the water chemistry.
Getting Started with Water Chemistry
There are a couple of options for pool owners to get their water chemistry in good shape. You can buy a start-up kit that will have all the chemicals, test your water and buy the individual chemicals that your pool requires, or ask a pool professional like Sunrise Pool to balance everything out for you.
The first step to start with is testing your water. Testing kits will come with strips that you can dip into the water. There will be different color indicators to show you whether or not your pool water is in range. If you're unsure, you can also take a sample of your water to a pool supply store for testing.
Adding Chemicals to Your Pool
Once you know which components of your pool's water need to be adjusted, you can add the chemicals to balance it out. When you go through this process, it is important to remember to start with alkalinity before moving on to pH adjustments, and then calcium hardness.
Common types of supplies you may need include chlorine tablets or stock, a pH decreaser and increaser, alkalinity and calcium increasers, and any stain removers, clarifiers, or algaecides. Try not to use more chemicals than is needed and test your water in between so you know what is happening to the chemistry.
Alkalinity
Ideally, you want to keep your alkalinity between the ranges of 100 ppm to 150 ppm. This chemical functions as a pH buffer and is meant to prevent drastic changes in your pH. It helps to take the impact of any major changes due to factors like rainwater, multiple swimmers, or heat so that your pH levels aren't being affected as much.
pH Levels
The pH of your pool should be between 7.4 and 7.6. This is a good range to stay within because it means your pool isn't too acidic and it isn't too basic either. pH can be unstable on its own which is why going through and adjusting your alkalinity first can make it more manageable.
Calcium Hardness
Calcium hardness level should range from 175 ppm to 300 ppm. If calcium is not well-managed, your pool's surface will end up bearing the brunt of the damage. Low calcium levels in the water will force the water to look for calcium in other places like the plaster which can cause the surfaces of your pool to corrode.
Additional Chemical Adjustments
Beyond these basic chemicals, you may also end up adding sanitizing agents that will disinfect surfaces and keep bacteria and algae out of the pool. You'll use chemicals like chlorine in this case to clear out germs that could make your water unhealthy or murky.
Get in Touch
We can help you make sure everything is ready for the summer.  Contact Sunrise Pool Services Inc. at our Buford, GA office at 678-804-0050 to schedule a pool maintenance appointment and learn how we can prepare your pool chemicals! We service Cumming, Alphretta, Johns Creek, Georgia and the surrounding areas.