Tiles are one of the most aesthetically appealing things when it comes to swimming pools. It's easy to make pool areas look great with different kinds of tiles that match the needs and style of the space. These include porcelain and ceramic pool tiles, mosaic tiles, glass, and stone tiles. But which is the best tile for your swimming area? There are a lot of pool tiles that come in different sizes and colors.
Let's have a look at different types of pool tiles and explore each one in more detail.
Porcelain and ceramic pool tiles
Porcelain and ceramic are the most popular choices when it comes to pool tiles. Both types of tiles do not absorb heat and therefore are best for waterline and pool deck pavement. Apart from these perks, ceramic and porcelain tiles are also easy to install and smooth to the touch.
Both these tiles are durable, affordable, and come in different sizes and colors. These have wide ranges from basic blue pool tiles to modern texture and shapes. Porcelain and ceramic tiles are scratch-resistant and easy to clean.
Stone tiles
Stone tiles are a perfect choice to give pools a classic Mediterranean look. The textured feel of these tiles blends perfectly with the natural elements and provides an architectural look. These are highly durable and are perfect as waterline pool tiles.
Stone tiles give a natural and attractive appearance to our pools, but stone tiles are porous and require more effort for cleaning and preventing strains. Stone mosaic comes in many different colors and sizes, and we can cut and integrate them to work with our dream pool design.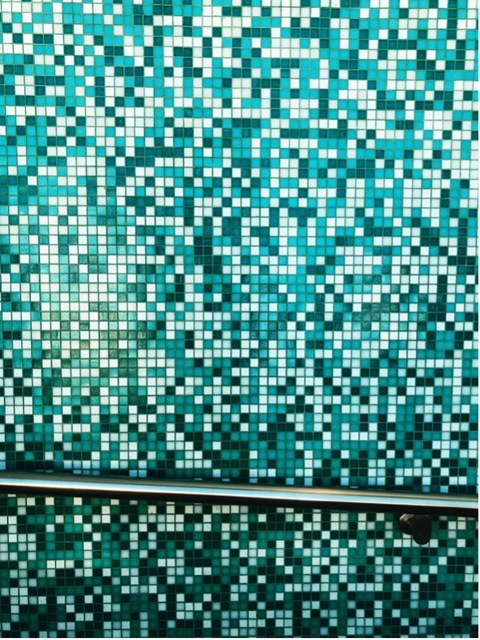 Mosaic tiles
Mosaic tiles give a beautiful and colorful appearance to swimming pools. These tiles come in a variety of colors and designs. Mosaic tiles are a blend of glass, porcelain, and ceramic and are pieced together to form a unique design. These are less prone to cracking and damaging. Mosaic tiles are easy to install as they come in large pre-set sheets. One pitfall to these tiles is they require more frequent cleaning sessions to remove algae, fungus, and mold.
Size matters
Take size into consideration when it comes to pool tiles. Larger tiles are cost-effective and a great choice when we want to showcase them with captivating designs. Small mosaic tiles are expensive, but it gives a dramatic effect. They are more visually appealing when installed over the curved bottom.
Final words
For a better and fresh look, match the tiles with the outdoor area. There are several options for pool tiles, and each of them has its advantages and disadvantages. Choose the tiles according to your requirements. However, glass mosaic tiles are a perfect blend of durability and appeal.
Looking for pool services, advice, or cleaning near you? Check out your local friends at Sunrise Pool Services by calling 678-804-0050.