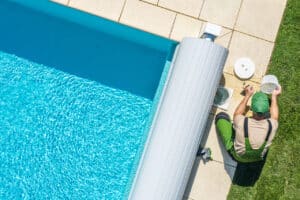 The key to stress-free pool maintenance is a top-notch local pool service company—it's that simple! There is nothing more overwhelming than a dirty, green-tinted pool. Without expert care, what was once a glistening, crisp pool can quickly turn into a leaf-filled eye sore.
Whether you're a first-time pool owner or you've had your own pool for years, it's a game changer when you find a reliable pool service company that can keep your swimming pool in tip-top shape. But with so many companies out there, how do you know which one is right for you? Look for these 5 qualities in a local pool company to ensure your pool gets the care and attention it deserves!
Reliability
Is there anything more frustrating than waiting hours on end for a service company to show up when they promised they would? Attentive pool owners want to know that their pool service company is reliable and shows up when they said they would, whether you're home or not.
A reliable pool cleaning company is one that shows up when they say they will and does the work they agreed to do–they show integrity in their business operations. They are consistent in their quality of service and take pride in their work. When you find a company like this, you can trust them to take care of your pool needs so that you can relax and enjoy it without having to worry about maintenance.
Experience
While integrity and reliability should always come first, it doesn't hurt to hire a company that has plenty of experience. With years of local experience, they have likely seen and dealt with every possible issue or problem that can occur with a pool in your area. They know the ins and outs of pool maintenance and repair, and have witnessed how your local environment affects your system. There is likely very little that will surprise them when it comes to tackling unforeseen issues that may arise!
An experienced pool business knows how to properly care for a pool and has the right equipment to clean and maintain your pool to the highest standards. They will also be able to offer guidance on how you can properly care for your pool and what products or services you may need to keep it running efficiently.
Communication
A good company lets you know what your pool needs; the best company regularly updates you on what your pool will need. Proactive communication about the health and maintenance of your pool is always a more effective care strategy than reactive problem solving.
Partner with a pool maintenance company that knows what your pool needs before you do. Regular communication should:
Allow you to be part of the decision-making process when it comes to your pool

Open up room for your suggestions and feedback when it comes to how you want your pool to look and function

Never leave you questioning the status of your pool maintenance
Having a good relationship with your pool guys means that you can trust them to take a holistic approach to all of your pool needs.
Positive Reviews
It sounds cliche, but positive reviews go a long way! When you're looking for a pool service company in your area, read what other customers have to say about their experience.
Thanks to the internet, it's easier than ever before to find reviews on local businesses. But be sure to take them with a grain of salt—it's not uncommon for good companies to have the occasional negative review!
Full Host of Services
When choosing a pool service, make sure to keep in mind that you want a company that offers a wide range of services. That way, you can be confident that they will have the knowledge and experience to handle anything that comes up, whether it's a small repair or a full replacement.
Look for a pool service company that offers:
Routine maintenance

Regular cleaning and treatments

Renovation and Repair

Inspections
Sunrise Pool Services: Your Local Pool Service Company
If you're a Georgia pool owner looking for a pool service company that checks all these boxes and more, contact Sunrise Pool Service today! Our upbeat, expert team loves to take on new projects and meet new people. Whether you're looking for routine maintenance or a full renovation, our team has you covered!